previous
next card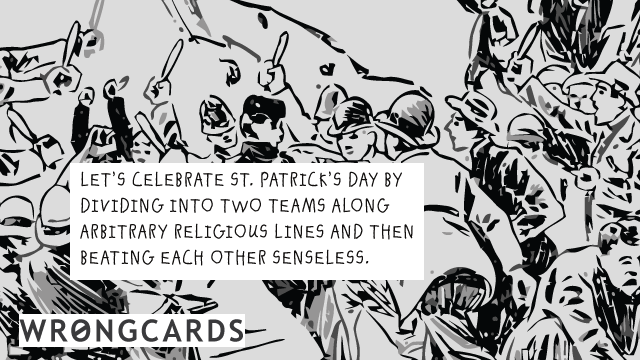 share this
send card
about this wrongcard
I'm not saying that St. Patricks Day is a conspiracy perpetrated by Irish brewing countries in league with a cartel of manufacturers of green food coloring. No wait a minute, that IS what I'm trying to say. Sorry, there's something about this holiday that gets me all muddled. It might possibly be the alcohol speaking. Look, I'm very good at research.
Read my latest book
"Shea is beginning to think that stealing the world's most famous skull wasn't the best way to launch his career in cat burglary..."
read more
I also considered throwing a chair through a window, but I didn't because it was my chair, and also my window. One should be particular when it comes to picking out targets for petty acts of vandalism.
read more
Subscribe to our shenanigans
No spamming or soliciting from us. Seriously .
Related Cards
Jewish cards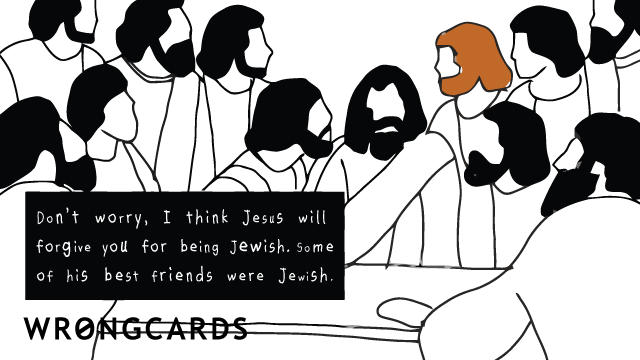 We've been talking a lot about Christmas here lately but let's not forget that Jews also have a Christmas celebration (called Kawanza) that happens sometime between November and February I think. I read that jewish priests ordained it as a sin for Jews to exchange presents, but I'm sure no one will get in trouble if they just send Jewish wrongcards instead.
share this
send card
Easter cards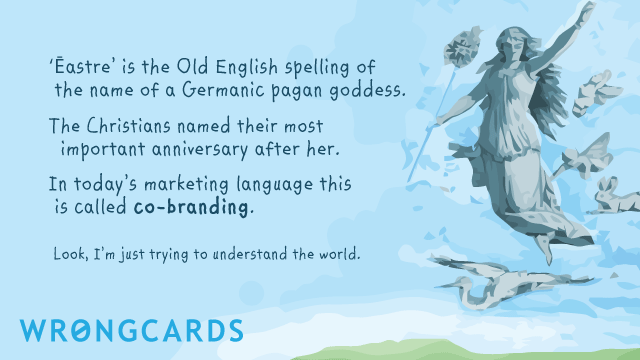 Today is Good Friday. That's a public holiday in a lot of the world but not in the U.S., because the earliest colonists here were protestants and they got to set all the rules. When we're kicking off space exploration don't let protestants onto the space ships or there'll be no weekends on Mars. Today's card makes commercial use of religious imagery. In other words: Happy Easter!
share this
send card
Easter cards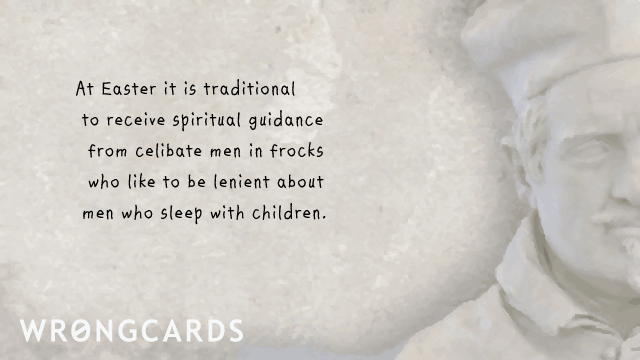 I hope it's not too soon to post this. I like Easter because it is all a relatively safe topic and I generally run much less risk of accidentally saying something controversial. Happy Thursday everyone!
share this
send card
Workplace cards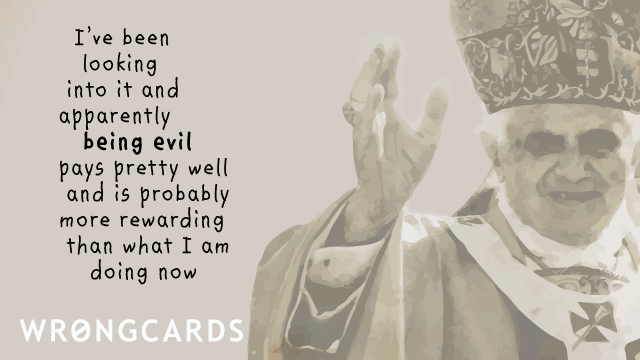 Do you ever find yourself blacking out and waking up hours later in a field several miles from your home holding a dead squirrel and having no memory of how you got there? Yeah, I don't either and I blame the people around me for expecting more of me than that. I did a card about Being Evil. I don't advise sending it to anyone.
share this
send card