previous
next card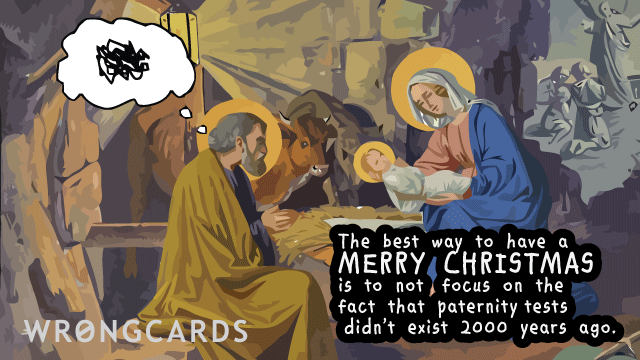 share this
send card
about this wrongcard
Oh my god, the department stores have put up Christmas decorations already. Every year it's earlier and earlier. Civilized people like you and me understand that Christmas shopping starts on Christmas Eve, and in a heightened state of panic mingled with resentment and lots of mental swearing. You know what's ironic? I bet Jesus' parents didn't even celebrate Christmas.
Read my latest book
"Shea is beginning to think that stealing the world's most famous skull wasn't the best way to launch his career in cat burglary..."
read more
There's a new book out in the world, and I wrote it.
read more
Subscribe to our shenanigans
No spamming or soliciting from us. Seriously .
Related Cards
St.Patricks Day cards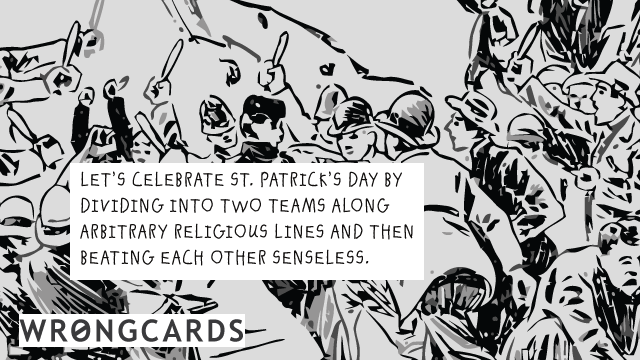 I'm not saying that St. Patricks Day is a conspiracy perpetrated by Irish brewing countries in league with a cartel of manufacturers of green food coloring. No wait a minute, that IS what I'm trying to say. Sorry, there's something about this holiday that gets me all muddled. It might possibly be the alcohol speaking. Look, I'm very good at research.
share this
send card
Thinking Of You cards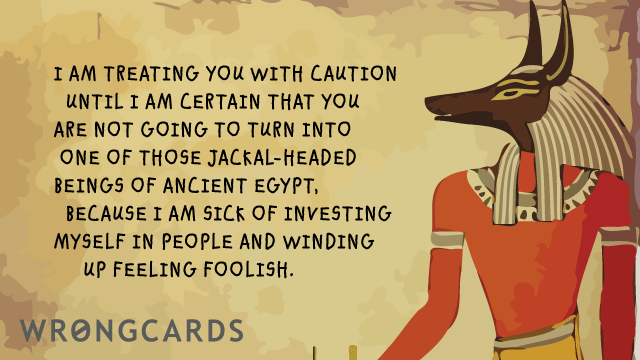 Consider that on Wednesdays I like to post older cards for the sake of nostalgia. In the rich tapestry that we call the human experience, the muddled moments of madness, forgetfulness and shoplifted puddings that sustain each of us, does it truly matter if today is Thursday? Thank you, your forgiveness is very dear to me.
share this
send card
Easter cards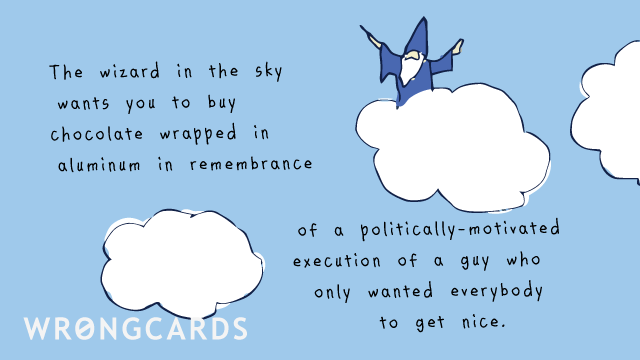 I like Easter. It's a time in which I feel a great kinship with everyone because now, more than any other time of year, people are glancing at each other, thinking, 'wait a minute, does this make any sense to you?' In other news I'm going to San Francisco tomorrow and, if you're there, you are welcome to buy me tea. Kidnappers need not apply.
share this
send card
St.Patricks Day cards
Like everyone else here, I like to live according to the whims and moral sensibilities of the dead. Countless times I've paused before eating a bun and wondered what St. Gabriel would have to say about its scarcity of raisins. St. Gabriel is the patron saint of communicators (but still the Vatican communicates via smoke signals?!). St. Patrick? I think he hated snakes or something
share this
send card