previous
next card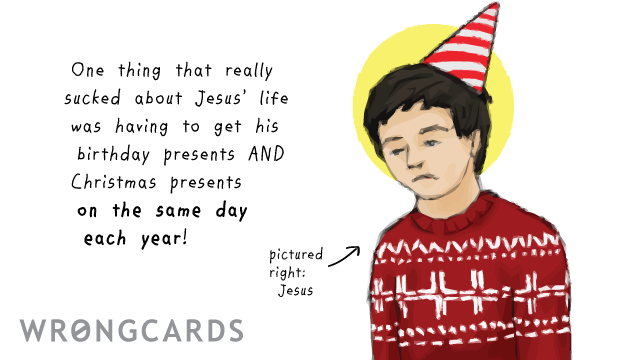 share this
send card
about this wrongcard
I'm kind of a Spiritual Expert. Answers to big theological questions, like, 'how much eggnog should ideally be consumed with a vindaloo curry', or 'which house is the easiest to steal a Christmas tree from' are easy for me. And I'm good at Christmas too; I love setting deer traps on the roof, I love putting out cookies and absinthe for Santa. BTW when Jesus comes back I'm sending him this card.
Read my latest book
"Shea is beginning to think that stealing the world's most famous skull wasn't the best way to launch his career in cat burglary..."
read more
There's a new book out in the world, and I wrote it.
read more
Subscribe to our shenanigans
No spamming or soliciting from us. Seriously .
Related Cards
Easter cards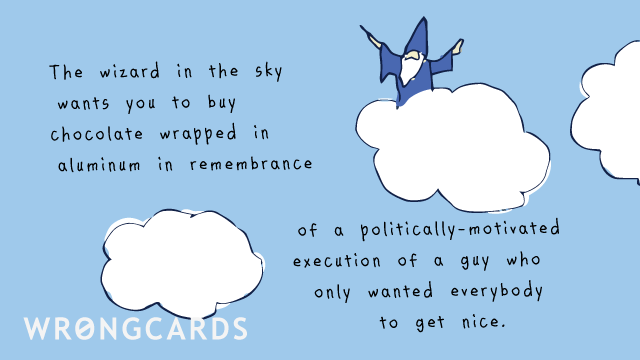 I like Easter. It's a time in which I feel a great kinship with everyone because now, more than any other time of year, people are glancing at each other, thinking, 'wait a minute, does this make any sense to you?' In other news I'm going to San Francisco tomorrow and, if you're there, you are welcome to buy me tea. Kidnappers need not apply.
share this
send card
Topical cards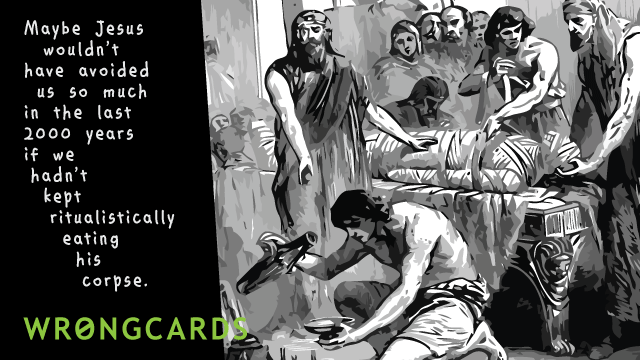 My Grandmother taught me everything there is to know about world religions, ie. lizards from space have infiltrated all world governments, we're part of the resistance, and all other religious beliefs are crazy. She taught me to be tolerant, and believe in all religions, except when they contradict the stuff about lizards because that's just CIA disinformation to test our faith. Hi Nanna!
share this
send card
Christmas cards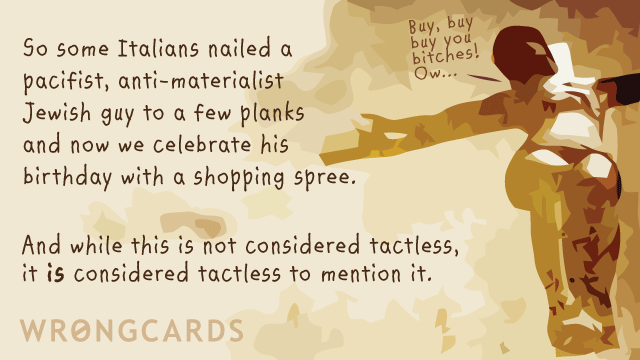 On Wednesdays I like to post an older card but occasionally I'll look at my calendar and notice that everyone has skipped a day by accident. On Thursdays I like to lurk behind doors and hiss at passers by. It's not very Christmassy but, like everybody else, irrational traditions have always played an important part in my life.
share this
send card