previous
next card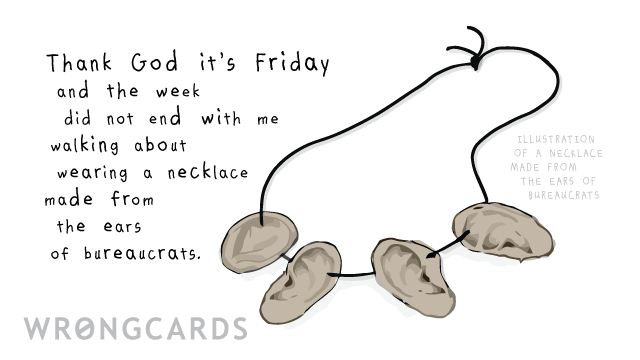 share this
send card
about this wrongcard
I like to think of myself as someone who can get along with anybody except for clowns, bureaucrats and werewolves. But filling out forms with a pen is, uh, mental torture. Forms make me agitated. I scribble, panic, weep. I yell lots about 'not wanting to live in this plane of reality'. Anyway. I had to fill out a form today. You can kinda tell, can't you?
Read my latest book
"Shea is beginning to think that stealing the world's most famous skull wasn't the best way to launch his career in cat burglary..."
read more
I also considered throwing a chair through a window, but I didn't because it was my chair, and also my window. One should be particular when it comes to picking out targets for petty acts of vandalism.
read more
Subscribe to our shenanigans
No spamming or soliciting from us. Seriously .
Related Cards
Workplace cards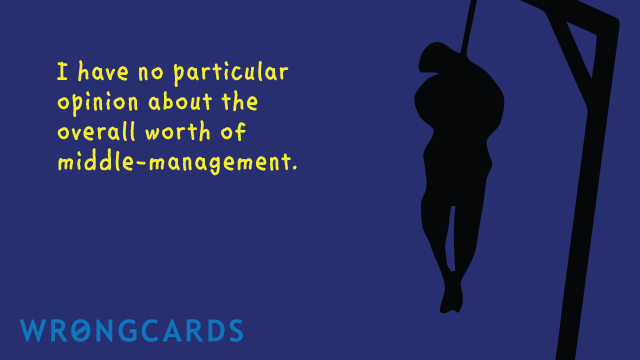 You know what bugs me? Being told I have pathological problems with authority. I just don't see it, man. And besides, why I should be subjected to psycho-babble just because I rightly understand that if I don't terrorize a middle-manager every day the entire world will fall into a thousand years of darkness, with pestilence and giant clowns? I'm a bit disappointed in psychiatry, too, obviously.
share this
send card
TGIF cards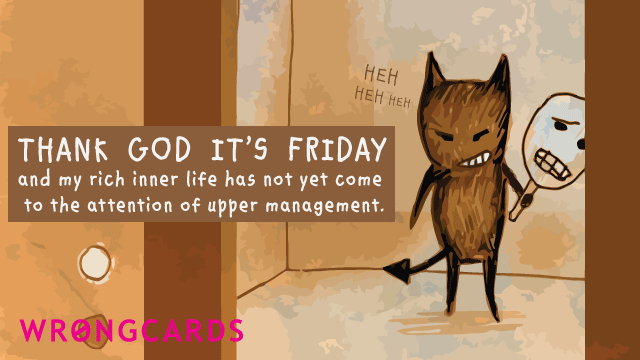 'People say to me: Che - how do you do it? I say 'hard work and nothing more'. But the truth is that everything pretty much depends on Human Resources not paying too much attention to me. Happy Friday you lot.'
share this
send card
Workplace cards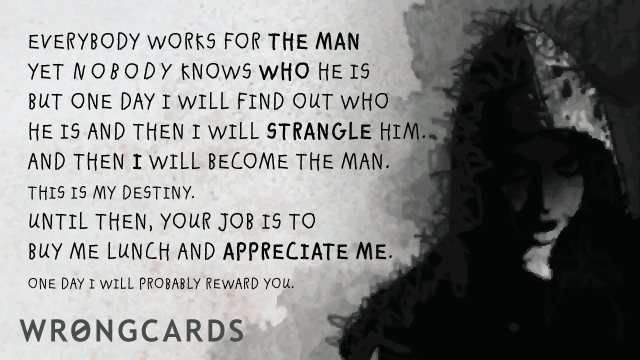 Everyone should have a mission statement. If you don't have one yet my advice is to write one that would make your Human Resources department panic. You should listen to me because the laws that govern probability suggest that I'll be right about everything at least part of the time. And today I'm feeling lucky.
share this
send card
Workplace cards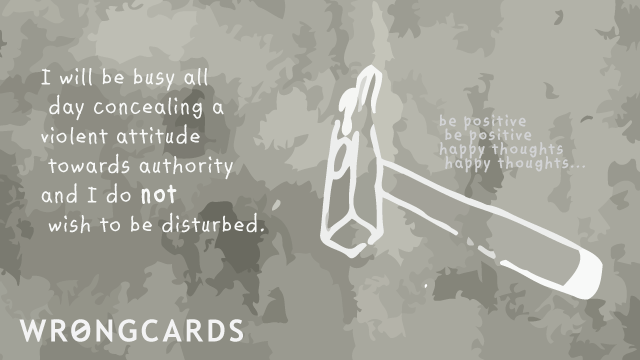 On Wednesdays I like to post an older card like this and then spend the rest of the day writing letters to various newspaper editors requesting more coverage of the small African nation of Bunwabe. I sign the letters 'concerned'. Bunwabe is a country I completely made up. I believe that one day I'll know why I do this.
share this
send card