Page 1 of 6
Ecards to Send Around the Workplace
Human Resources probably frowns on these cards but you can probably argue that you were just trying to raise company morale by making the workplace a more cheerful environment. They probably won't buy it though: they never do. It might not be a good idea to send these greeting cards around the office unless you feel like getting fired. We are not experts on differentiating Workplace Inappropriate from Appropriate and we have cards here advocating arson for God-sakes. Maybe you could table this question in a meeting?
Workplace cards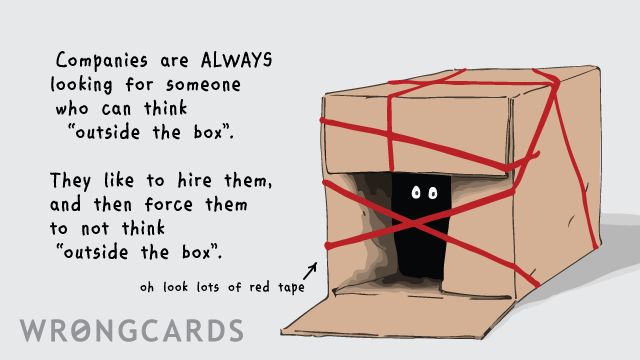 One time in a job interview someone asked me if I could think outside the box. Now, if I'd said YES, I'd be thinking INSIDE the box, which is tantamount to saying NO. So I just said, "Have you ever woken up to find a Chinese man licking your foot?" Then they got uncomfortable and the interview ended. My point is, the world is a confused place. And the fact I'm NOT confused doesn't make it any easier.
share this
send card
Workplace cards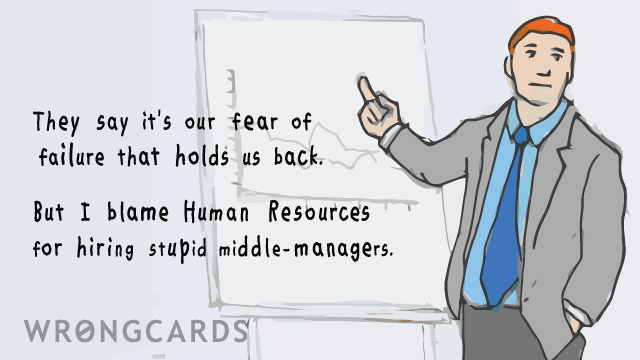 'I no longer work in an office environment: people couldn't handle my realness. It's a pity because I really enjoyed it, especially 'Mysterious Fire Mondays.' I miss the middle-management types, mostly. I miss seeing the good-natured fear in their eyes whenever I visited their houses late at night to remind them that 'everybody sleeps sometime'.
share this
send card
Workplace cards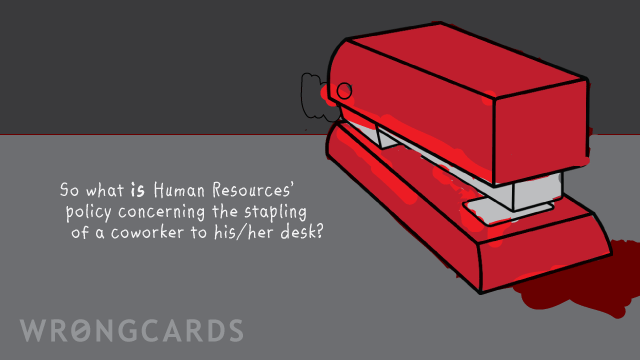 It is hard to remember that, although Wrongcards is now a mega-corporation with global brand-awareness and a market saturation rivaling that of Coca-Cola, we were once a small outfit run by one man and a telepathic dog. In 2008, before we sold out to corporate interests, my dog told me to make this card. Or to feed her. Look it's not important.
share this
send card
Workplace cards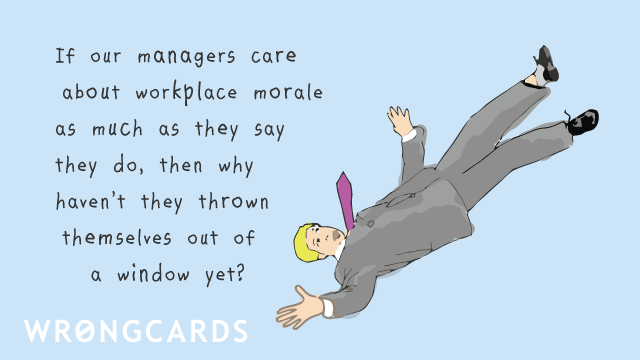 Some of my closest friends are managers. It's a perfectly respectable job, especially for people who are unable to do anything else. And I get along fine with managers, once they've learned how much easier it is to not ask me questions, like: 'what is it you do here, Che?' or 'why won't you give me back those compromising photos?' On the whole I'd be bored without them.
share this
send card
Workplace cards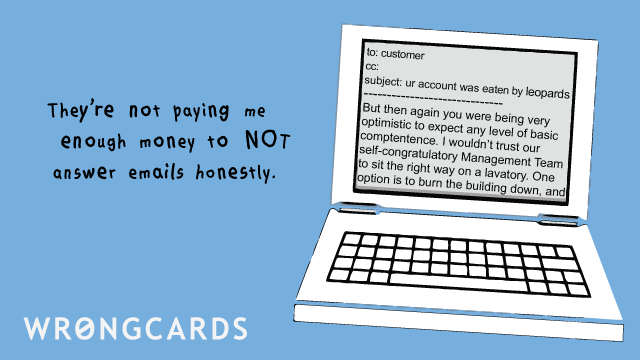 Writing work emails is easy. First, I write what I have to say on a piece of paper, then I carefully set fire to that paper and stamp the ashes into oblivion. Then I take a muscle relaxant, sit down at my desk and type up the opposite of what I wrote on the paper and click send. Finally I stab my childhood teddy bear in the head with a pair of scissors.
share this
send card
Workplace cards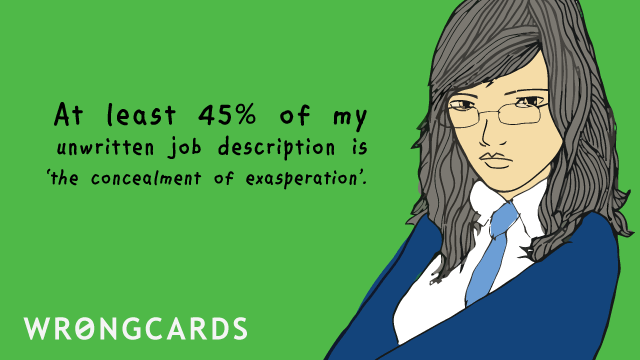 In the workplace I'm quiet and keep to myself unless I'm engaged in workplace activism like organizing lunchtime hunger-strikes for a Free Tibet or for Free Bagels, or petitioning for departmental cage fights. I got the janitors to go on strike. That's right, they're not taking any more rubbish. Just a little joke. Sometimes I'm not very serious.
share this
send card
Subscribe to our shenanigans
No spamming or soliciting from us. Seriously .