about this wrongcard
Let's say you're romantically involved with a balloon animal. Society doesn't understand - it never does - and you have to sneak out to this one Italian restaurant where the staff aren't all that judgmental. Now one night, over a candlelit dinner, she wafts across the table and touches the candle flame. Pop! She's dead! Do you tip the waiter for one meal or two?
My quest to find a literary agent, its reasons, and some very excellent advice on how you too can query a literary agent.
read more
Related Cards
Romance cards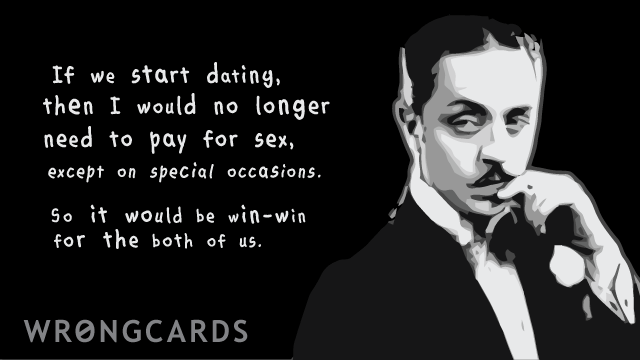 Alright blokes, you're fond of a lady but you can't very well show up in her kitchen at 3am, naked and covered in mud and broken glass, claiming to be a time-traveler. Trust me, I speak from experience when I say that women are far too jaded and cynical nowadays for that to work. My best advice? Send this card. My next best advice requires a gorilla suit but I don't give away ALL my trade secrets.
share this
send card
Concern cards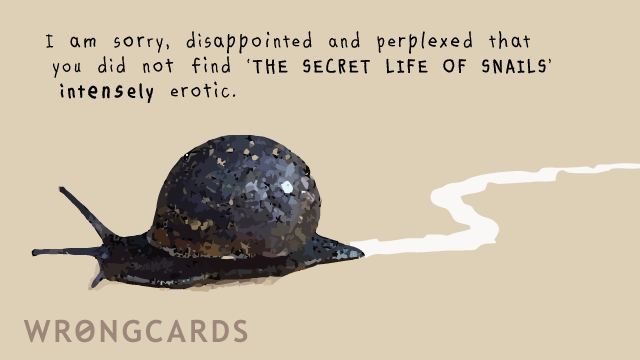 This one time someone told me I was a bit weird and I told them they were a bit normal and then they looked at me as if I'd behaved like a dog on a croquet lawn. What's a man to do when nobody wants to be weird and nobody wants to be normal? My guess is that there's a fine line in there between and this card rests right there...
share this
send card
Flirting cards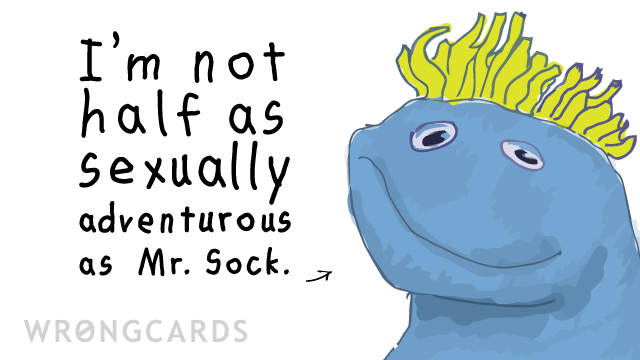 May 9th is National Lost Sock Memorial Day. I believe that every washing machine manufactured after 1963 was designed to eat precisely one sock per month, just to keep everybody in the consumer world a little off-balance. So where do all the socks go? They're sacrificed, with noble intent, for our collective unease. It's a religion I'm starting. And, of course, I'll be taking donations...
share this
send card
Flirting cards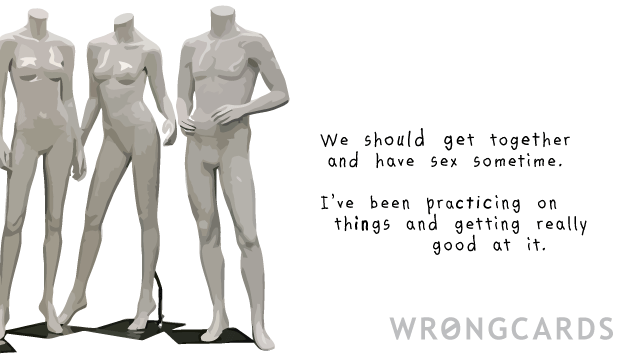 Today's card is a rehash Wednesday flirting card which means it's probably Not Safe For Work (whatever that means) though it CAN be useful if you'd like to flirt with someone today. It will also make you more popular - every time I send it to a woman she writes back and tells me how much she just wants to be my friend, which obviously is very sweet and quite complimentary.
share this
send card
Subscribe to our shenanigans
No spamming or soliciting from us. Seriously .