about this wrongcard
So I spent this week camping in the White Mountains in New Hampshire and mostly feeling terrified of bears. The Jewish New Year came and went and I was oblivious to the whole thing this time. Another thing I'm afraid of is firecrackers and people dancing about in dragon costumes. Thank God I'm agnostic.
My quest to find a literary agent, its reasons, and some very excellent advice on how you too can query a literary agent.
read more
Related Cards
Easter cards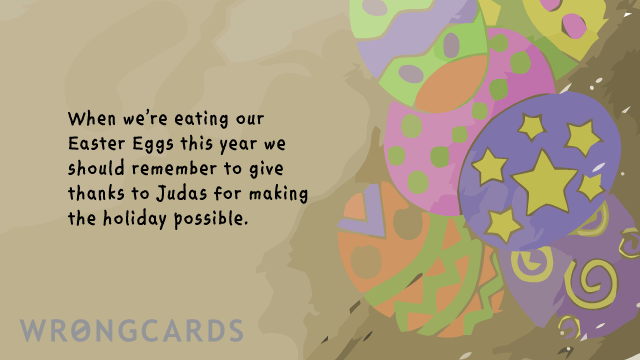 This week's Re-hash Wednesday card is, predictably, an Easter card. And for the record: You Probably Shouldn't Send It to Anyone. You see what I did there? I urged you to live responsibly. Good. My work here is done.
share this
send card
Subscribe to our shenanigans
No spamming or soliciting from us. Seriously .