previous
next card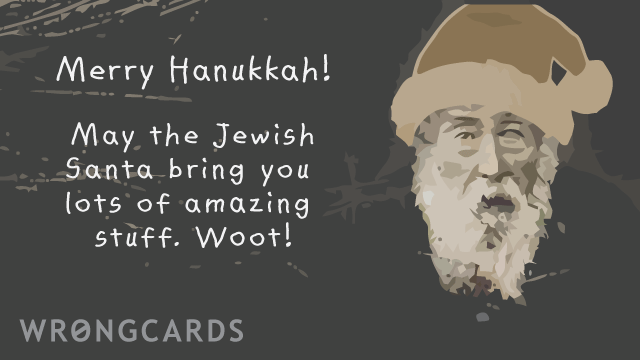 share this
send card
about this wrongcard
People. I'm back. Rumors of my death have been greatly exaggerated - by others, and also by me - for tax purposes, but let's not get into that now. The important thing is that I'm back, which means it's time we kicked off this holiday season properly. I'd like to start off Christmas with a Hanukkah card. I know, right?! Look at us all - knowing what Hanukkah is and being all cosmopolitan...
Read my latest book
"Shea is beginning to think that stealing the world's most famous skull wasn't the best way to launch his career in cat burglary..."
read more
I also considered throwing a chair through a window, but I didn't because it was my chair, and also my window. One should be particular when it comes to picking out targets for petty acts of vandalism.
read more
Subscribe to our shenanigans
No spamming or soliciting from us. Seriously .
Related Cards
St.Patricks Day cards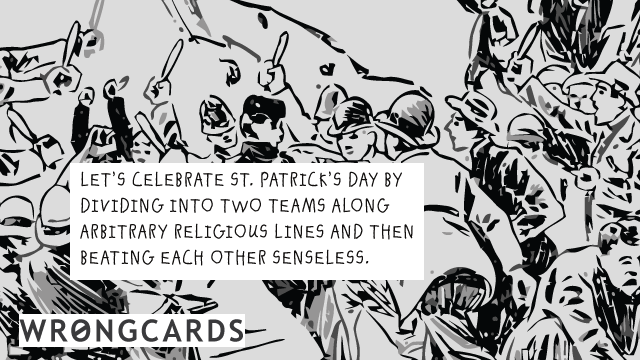 I'm not saying that St. Patricks Day is a conspiracy perpetrated by Irish brewing countries in league with a cartel of manufacturers of green food coloring. No wait a minute, that IS what I'm trying to say. Sorry, there's something about this holiday that gets me all muddled. It might possibly be the alcohol speaking. Look, I'm very good at research.
share this
send card
Christmas cards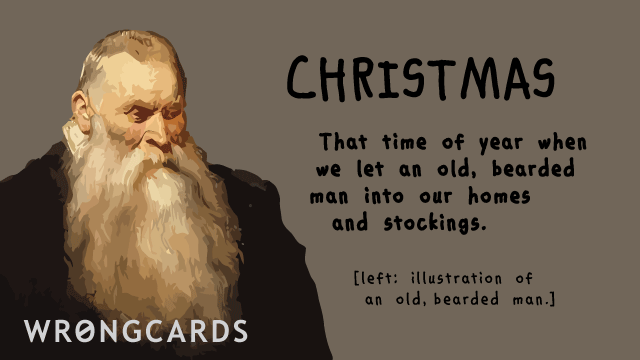 Just because you don't understand what's going on doesn't mean you're confused. Look at me - I own a greeting card company (for admittedly 'troubled people') and I've never purchased or sent a greeting card in my life. Look at Christmas. Makes no sense to me but people invite me to their houses to give me pudding. I don't say anything about Christmas, of course. I just focus on the pudding.
share this
send card
Jewish cards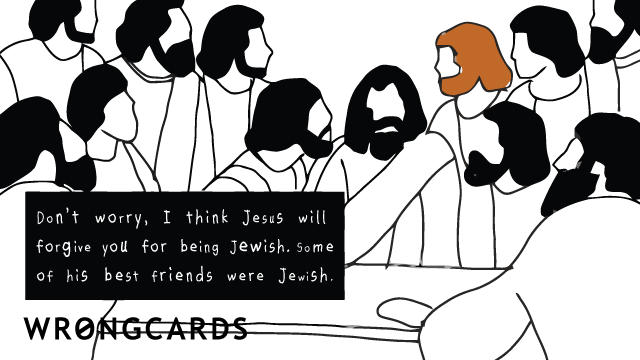 We've been talking a lot about Christmas here lately but let's not forget that Jews also have a Christmas celebration (called Kawanza) that happens sometime between November and February I think. I read that jewish priests ordained it as a sin for Jews to exchange presents, but I'm sure no one will get in trouble if they just send Jewish wrongcards instead.
share this
send card
Topical cards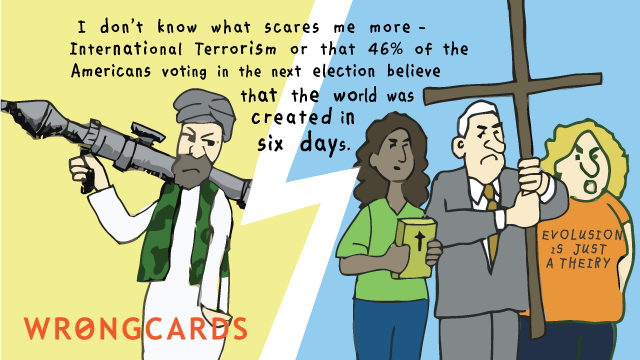 One of my daily challenges is the fact that I understand politics better than everybody else. I already know who will win the US election - some really rich Americans who live in Monaco and Switzerland. Normal Americans who live inside the United States won't fare so well, of course, but at least they'll get to have some interesting arguments among themselves at Thanksgiving.
share this
send card