about this wrongcard
I've seen the piles of prose penned by prominent pundits in the remainders sections of book stores; there's a Culture War raging on the streets and even Our Christmas Traditions are under attack. Well we're not here to simply offer tasteful ecards - we're here to enlighten civilization. When your Grandchildren ask: where were you during the Culture Wars? you can reply: at Wrongcards...
My quest to find a literary agent, its reasons, and some very excellent advice on how you too can query a literary agent.
read more
Related Cards
Easter cards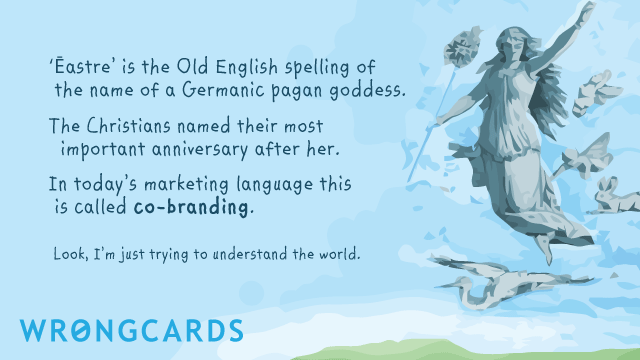 Today is Good Friday. That's a public holiday in a lot of the world but not in the U.S., because the earliest colonists here were protestants and they got to set all the rules. When we're kicking off space exploration don't let protestants onto the space ships or there'll be no weekends on Mars. Today's card makes commercial use of religious imagery. In other words: Happy Easter!
share this
send card
Hanukkah cards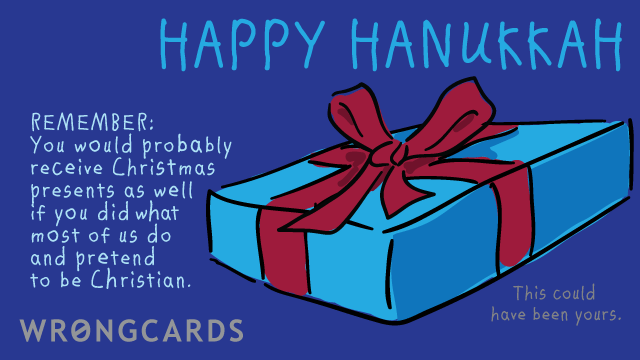 When I was growing up the most I knew about Jewish people was that they didnt believe in Christmas and liked to wear very small hats. Still, every year I give at least one Jewish friend a Christmas present. Its not required, of course, but cultural sensitivity is all about making others speechless with gratitude.
share this
send card
Topical cards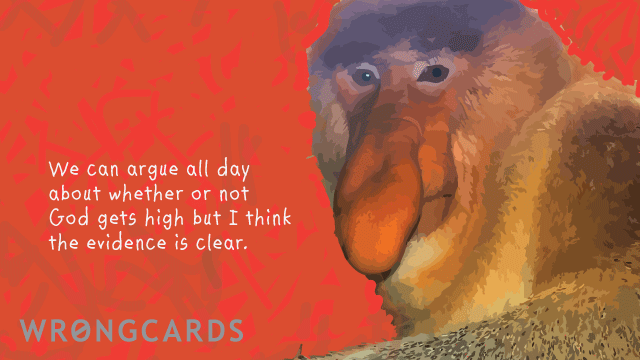 I never like to hear people arguing about religion because that means they're not sitting there listening attentively to me. Everyone has a different approach to religious debate. Mine is to scream: That Is Anathema! until everyone leaves. I guess it's important to win.
share this
send card
Topical cards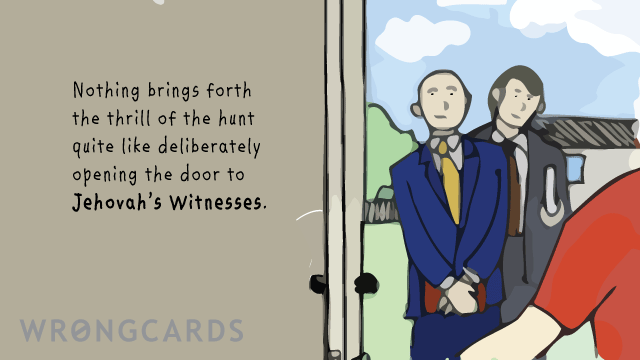 For those among us who are religiously tolerant enough to get away with laughing at the religiously intolerant, here is today's wrongcard. For everyone else, well, I look forward to your letters.
share this
send card
Subscribe to our shenanigans
No spamming or soliciting from us. Seriously .