previous
next card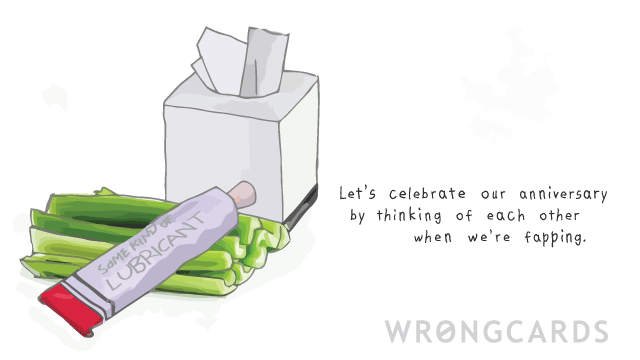 share this
send card
about this wrongcard
Anniversaries, right? People have them. Not me, so much, 'cause I believe that honesty is important in relationships. Wait, is that another thing Oprah was wrong about? Jesus Oprah! Anyway. It's beside the point. This card is pretty much NSFW. But I think most wrongcards are pretty much NSFW because, unlike most, I believe in good taste, decency and mental cleanliness. Happy Thursday...
Read my latest book
"Shea is beginning to think that stealing the world's most famous skull wasn't the best way to launch his career in cat burglary..."
read more
I also considered throwing a chair through a window, but I didn't because it was my chair, and also my window. One should be particular when it comes to picking out targets for petty acts of vandalism.
read more
Subscribe to our shenanigans
No spamming or soliciting from us. Seriously .
Related Cards
WTF cards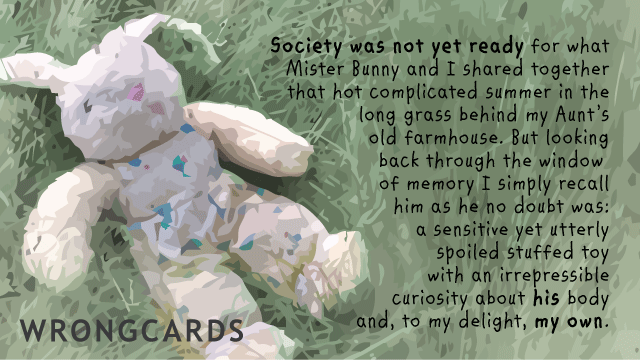 On Wednesdays I like to post an older card for the sake of nostalgia and spend the rest of the day warning people about minotaurs stealing our jobs. I'll keep doing that until Fox News finally runs a panel discussion on the subject. Then I'll just retire in sick horror.
share this
send card
Romance cards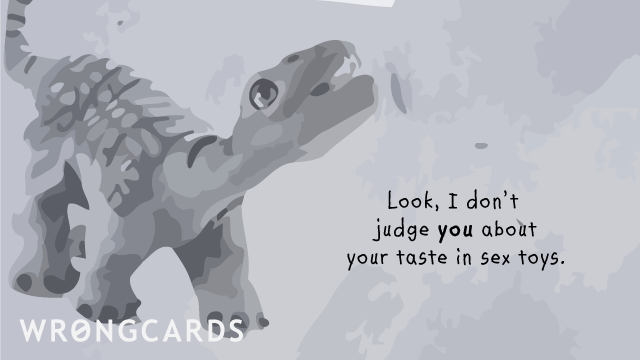 I suspect that today's wrongcard may be a little Not Safe For Work though I'm not sure or good at judging that sort of thing. It's a WTF card, though, which means it is probably more impractical than usual. It's a pity that 'cards that are wrong for every occasion' is such an impractical idea. Next time I start a company I'll do a business plan.
share this
send card
Zombie cards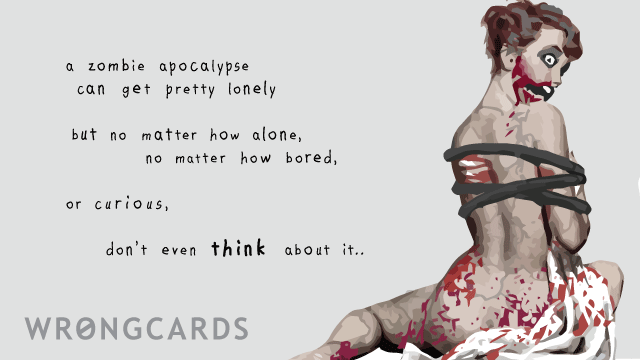 Zombies - a fad that just won't die (bada-ba-ching!). Are zombies just a metaphor for consumer culture? Or do they symbolize the unshakable unease of post-modernity? Are we simply fated to wake up one day and find ourselves fighting for our lives? Or will it only 'seem' that way to the infected? Hell, don't ask me, I've got my own demons and today's card is a reminder of the fact...
share this
send card
Mothers Day cards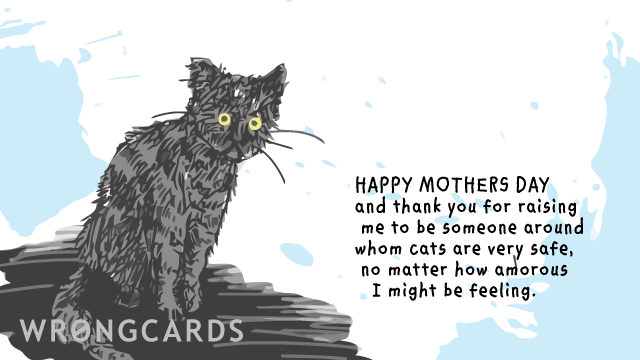 I had a pretty normal childhood even though I was raised by my Nanna after my parents were kidnapped by lizard people. Nanna was in the underground before our side surrendered, and she had to live in 'psychic hiding' (constant inebriation) to avoid detection by mind scanners. So coming up with Mothers Day cards is, of course, a bit tricky. But what I like about this card is that it is reassuring.
share this
send card