about this wrongcard
I never know the right thing to say but I've never let that stop me. When it comes to babies it's like quantum principles are involved. It's all projection, probability, wave-forms and misbehaving mathematics. You can send this card to any expecting parent and know you've covered all bases. If they get weird and serious about it blame it all on hormones.
My quest to find a literary agent, its reasons, and some very excellent advice on how you too can query a literary agent.
read more
Related Cards
Baby cards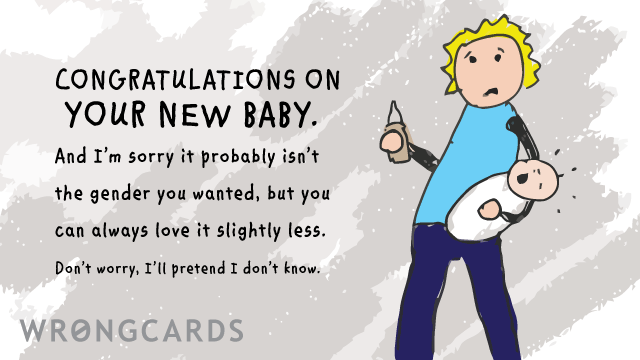 The behavioral nuances of an infant do not exactly enliven the mind unless, and I'm guessing here, your genetic material was used in its manufacture. Then it's all diverting stuff. Look, I love the arrival of a baby but a soliloquy from a new parent about an infant's burping habits? I can only remain in the room if I'm incapacitated, and even so, I still be clutching my head and screaming.
share this
send card
Subscribe to our shenanigans
No spamming or soliciting from us. Seriously .