previous
next card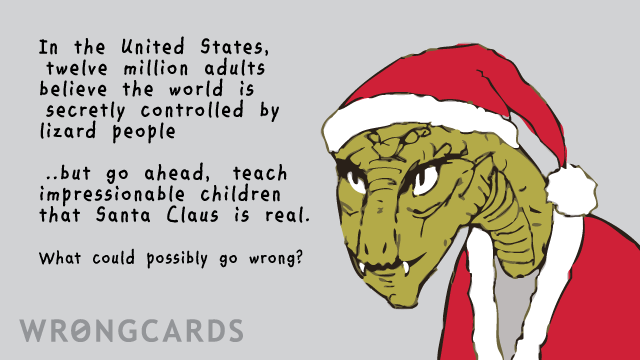 share this
send card
about this wrongcard
Christmas is nigh. Little orphans are peddling old shoes. Mums are smoking broken pencils and Dads are drinking turpentine and waving tire irons at invisible winged-snakes again. I know, I know - even I get maudlin and sentimental around this time of year. To be honest, I don't really understand today's card. But then, I don't really understand most of the things I say...
Read my latest book
"Shea is beginning to think that stealing the world's most famous skull wasn't the best way to launch his career in cat burglary..."
read more
I also considered throwing a chair through a window, but I didn't because it was my chair, and also my window. One should be particular when it comes to picking out targets for petty acts of vandalism.
read more
Subscribe to our shenanigans
No spamming or soliciting from us. Seriously .
Related Cards
Christmas cards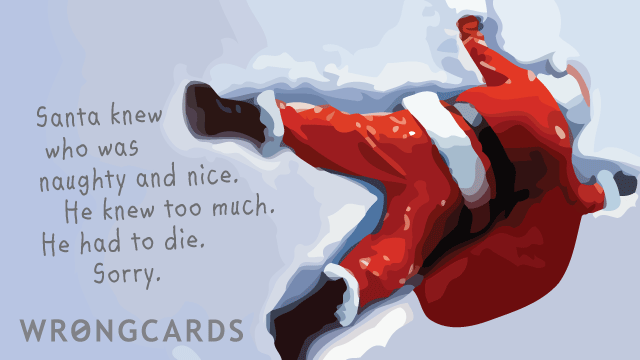 Santa. He 'knows when you've been bad or good'. That's quite an accomplishment, Santa, thanks very much. Good to know someone is keeping a watchful eye on me. But then again maybe, if you pay too much attention to what a man is doing in his private life, you might get a bit distracted and accidentally tumble down a flight of stairs. , , I'm only looking out for you, Santa.
share this
send card
Hanukkah cards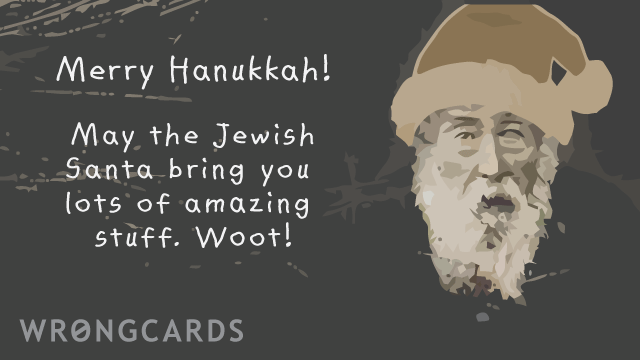 People. I'm back. Rumors of my death have been greatly exaggerated - by others, and also by me - for tax purposes, but let's not get into that now. The important thing is that I'm back, which means it's time we kicked off this holiday season properly. I'd like to start off Christmas with a Hanukkah card. I know, right?! Look at us all - knowing what Hanukkah is and being all cosmopolitan...
share this
send card
July4 cards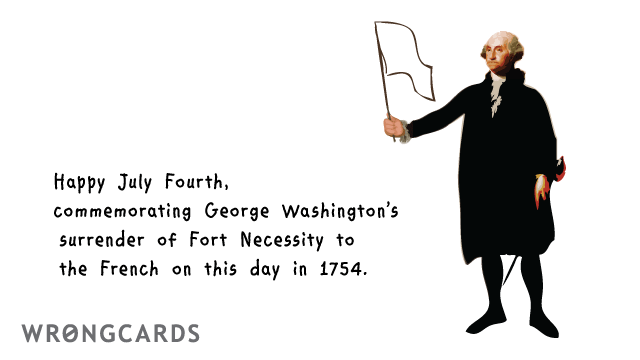 I don't know a lot about Independence Day but I saw the movie and liked it. The only problem was that it gives the impression that July 4 started after aliens tried to take over the US back in the mid-nineties but, when you do the research, the Americans fought the aliens AND the French way back in 1750. Which makes you wonder why the aliens went away and waited for us to develop fighter jets before attacking again. Idiots.
share this
send card
July4 cards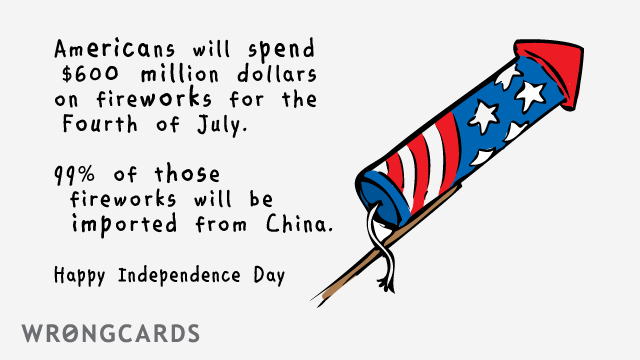 One of my favorite things about Independence Day is when the pilot, who nobody believed had been abducted by aliens, turned out to have told the truth about it all. Nothing corroborates an alien abduction story quite like an alien invasion fleet turning up afterwards. Total vindication right there. Ever since I moved to the US and started stockpiling Chinese fireworks, I worry less and less about aliens. In fact: bring it on, aliens!
share this
send card