previous
next card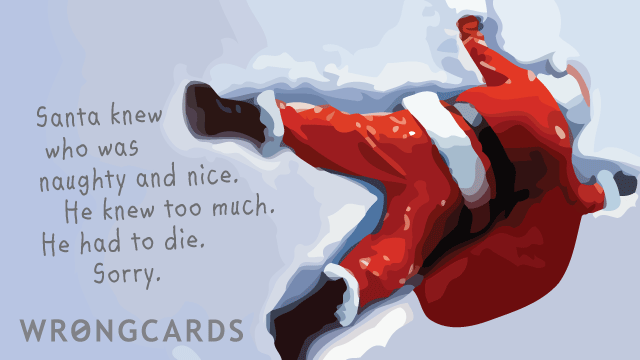 share this
send card
about this wrongcard
Santa. He 'knows when you've been bad or good'. That's quite an accomplishment, Santa, thanks very much. Good to know someone is keeping a watchful eye on me. But then again maybe, if you pay too much attention to what a man is doing in his private life, you might get a bit distracted and accidentally tumble down a flight of stairs. , , I'm only looking out for you, Santa.
Read my latest book
"Shea is beginning to think that stealing the world's most famous skull wasn't the best way to launch his career in cat burglary..."
read more
I also considered throwing a chair through a window, but I didn't because it was my chair, and also my window. One should be particular when it comes to picking out targets for petty acts of vandalism.
read more
Subscribe to our shenanigans
No spamming or soliciting from us. Seriously .
Related Cards
Christmas cards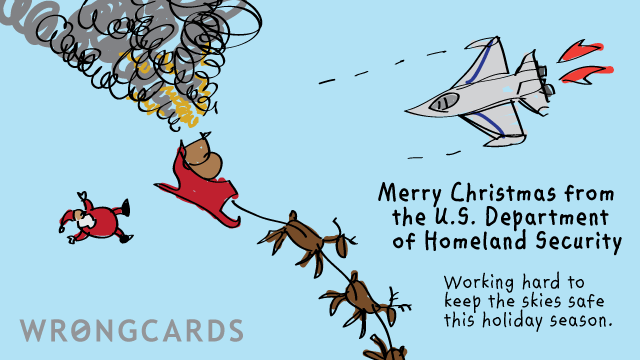 Christmas isn't just a capitalist holiday - there's a religious side to it as well. The origins of Christmas are very mysterious, especially if you're not good at research. Did you know that Jesus' parents might have been Mexicans? Scholars believe that's why they named their kid Jesus. It all makes sense when you remember they owned a donkey. Anyway, Merry Christmas Mexico (birthplace of Jesus)!
share this
send card
Hanukkah cards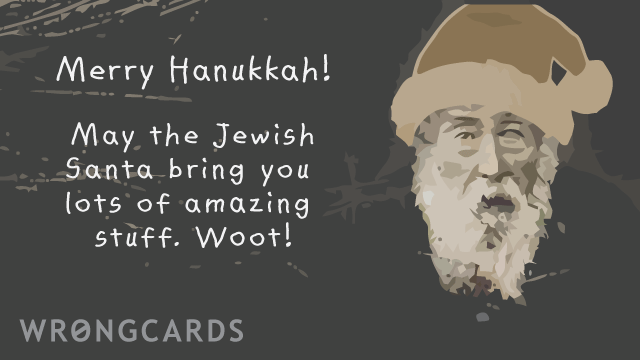 People. I'm back. Rumors of my death have been greatly exaggerated - by others, and also by me - for tax purposes, but let's not get into that now. The important thing is that I'm back, which means it's time we kicked off this holiday season properly. I'd like to start off Christmas with a Hanukkah card. I know, right?! Look at us all - knowing what Hanukkah is and being all cosmopolitan...
share this
send card
Christmas cards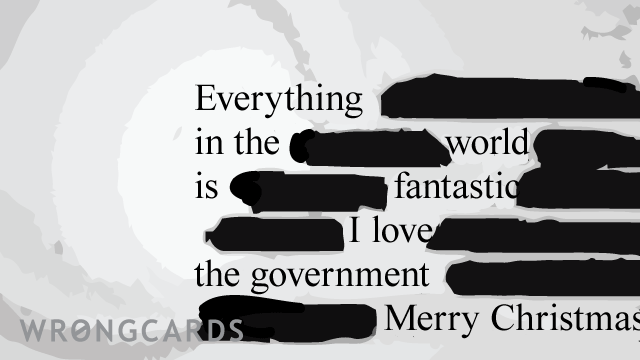 Let's all imagine, for the sake of the argument, that it's Christmas eve. What's a good Christmas movie? I mean, apart from Diehard? (This description has nothing to do with the card. Rules are for squares, baby).
share this
send card
WTF cards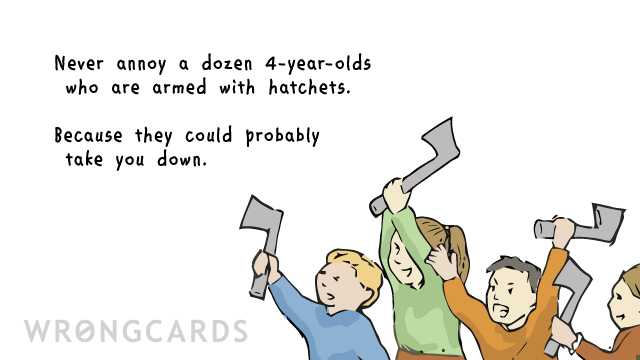 I know that Christmas has traditionally been about department stores making money but I've always hoped it might one day become a holiday for children. For some reason people assume I'm cynical but I've always liked children: they're funny, and they remind me of how each of us used to be - truthful, spontaneous, amoral and interesting. No child has ever once bored me with talk of mortgages or promotions. So our first Christmas wrongcard is for the children.
share this
send card