about this wrongcard
Easter? Just a conspiracy perpetrated by a cartel of chocolate manufacturers, right? I mean, we don't own it - some pointy-hatted pontiff does. Sure we can take it back .. from the clergy, the factory-owners, the companies that market diabetes drugs. You see, anyone can change the world, provided they believe. And have billions of dollars and play tennis with Rupert Murdoch.
My quest to find a literary agent, its reasons, and some very excellent advice on how you too can query a literary agent.
read more
Related Cards
WTF cards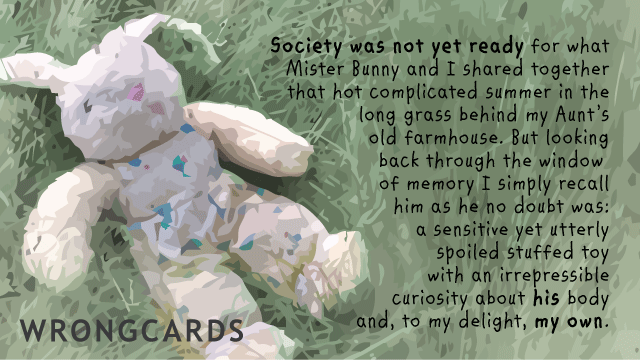 On Wednesdays I like to post an older card for the sake of nostalgia and spend the rest of the day warning people about minotaurs stealing our jobs. I'll keep doing that until Fox News finally runs a panel discussion on the subject. Then I'll just retire in sick horror.
share this
send card
Subscribe to our shenanigans
No spamming or soliciting from us. Seriously .