Page 1 of 7
Free Ecards for Birthdays
So you need to send an appropriate birthday card? So okay, you're in the wrong place - or are you? As far as e-cards go, our cards do offer the tactical advantage of being free. Besides, as alliterative folks of means might suggest, the spending of shekels is but a sad substitute for sincerely-stated sentiment; 'tis even somewhat silly. Birthday wishes should be sent with a free card, and these are very best free birth day cards that money can't buy.
Birthday cards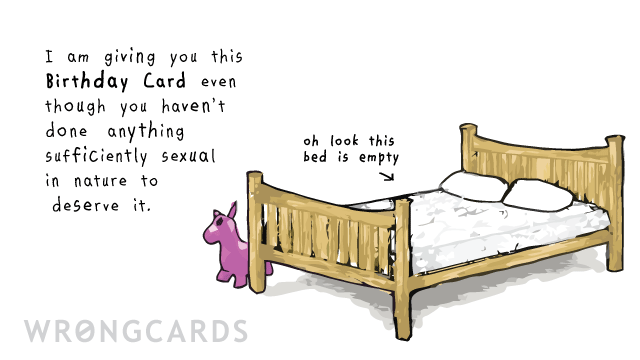 Birthdays are a chore, especially if you're like me and celebrate your Birthday every couple of months with a different group of friends. I find there's safety in numbers. Of identities.
share this
send card
Birthday cards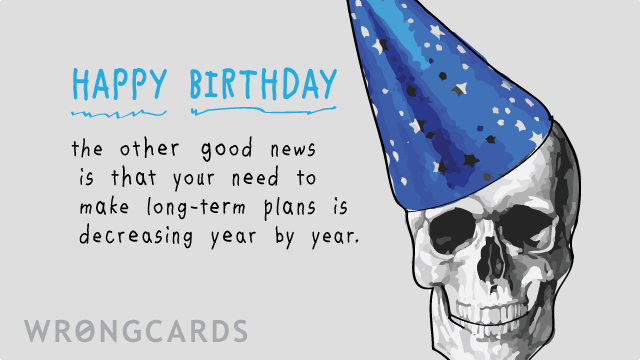 Did you know only 12 million Americans believe that the USA is secretly run by lizard people? It's a very disappointing statistic but lizards are good at disinformation. Today's wrongcard is for birthdays so why, then, am I talking about lizard people? Oh who knows why I do anything.
share this
send card
Birthday cards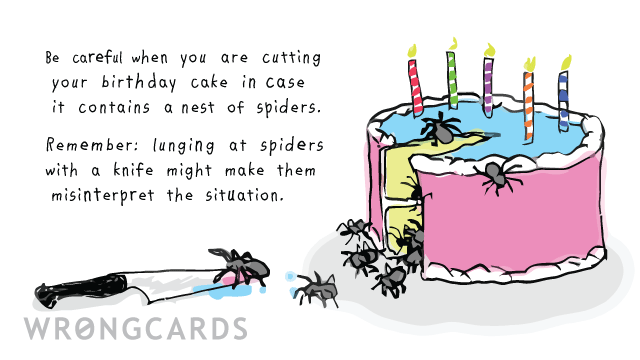 It's someone's birthday today, maybe not yours or mine but it's someone's; it's commonsense. I know lots about people and most of what I know about people I learned from spiders. Though wasps, when you think about it, are a kind of winged spider. Spiders don't hum like wasps, they just whistle. Nobody really knows why.
share this
send card
Birthday cards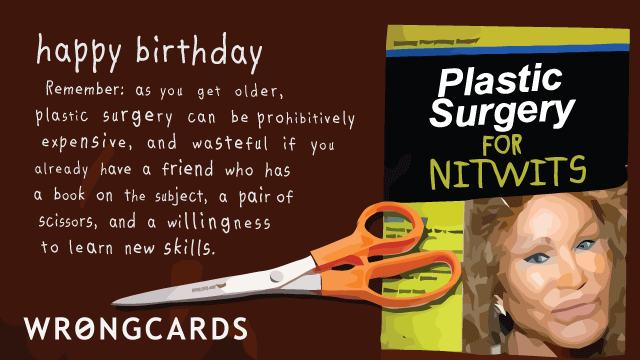 I'll go ahead and admit it: today's card is silly. Usually I like to keep things pretty serious here because we live in grave, uncertain times and I don't want anyone to think I'm a frivolous person. Still, I can joke about cosmetic surgery because I'd never spoil a surprise. People love surprises. "Wake up! While you were sleeping I fixed your nose! Now you have two!" I am awesome at friendship...
share this
send card
Birthday cards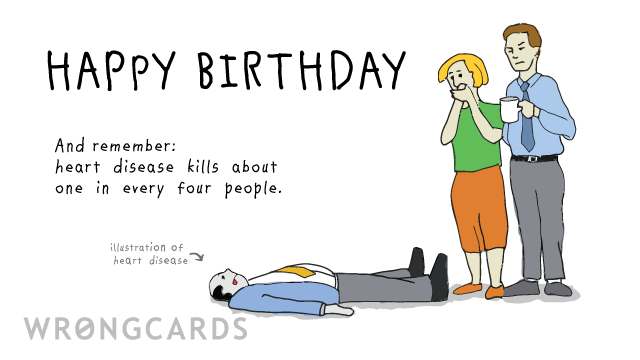 If you know someone who is having a birthday right now you have to send them today's wrongcard. Because it's, like, Providence or something that this card should appear in your life and you have to do it. To ignore Providence is like ignoring God. And we don't do that, okay, because there will be floods and I'll have to build an Ark. If I build an Ark I'm not inviting any bears on-board. Screw that.
share this
send card
Subscribe to our shenanigans
No spamming or soliciting from us. Seriously .