previous
next card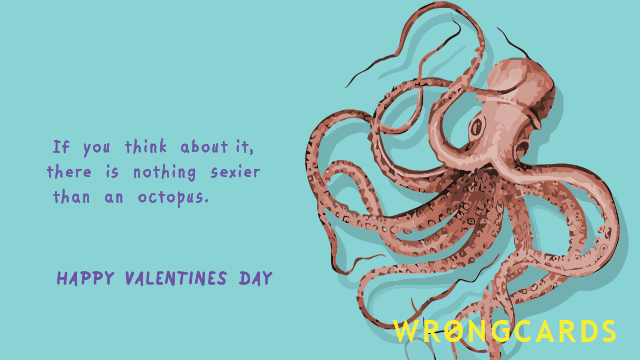 share this
send card
about this wrongcard
Well, I wrote a book and it turns out that everybody who knows me will only read it if I suggest THEY'RE in the book (narcissism is rampant these days. SAD!) So I just hint that they only turn up in this one very tasteful sex scene with an octopus, and off they go to buy my book! Works a charm. It's all nonsense - little kids could read my book - but the point is, wow I'm a marketing god.
Read my latest book
"Shea is beginning to think that stealing the world's most famous skull wasn't the best way to launch his career in cat burglary..."
read more
There's a new book out in the world, and I wrote it.
read more
Subscribe to our shenanigans
No spamming or soliciting from us. Seriously .
Related Cards
Christmas cards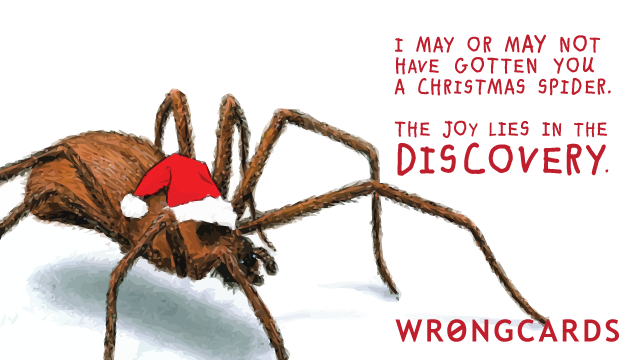 People say they want a Christmas surprise, but here's the thing: DO THEY? DO THEY REALLY? I'm not angry but what is the point of you saying, 'I want it to be a surprise' if you're going to run around shrieking for an hour and then go stay at your Mother's until Thursday? And no it's not because I don't understand Christmas, I have an entire WEBSITE about it so technically I'm an expert so there.
share this
send card
New Years cards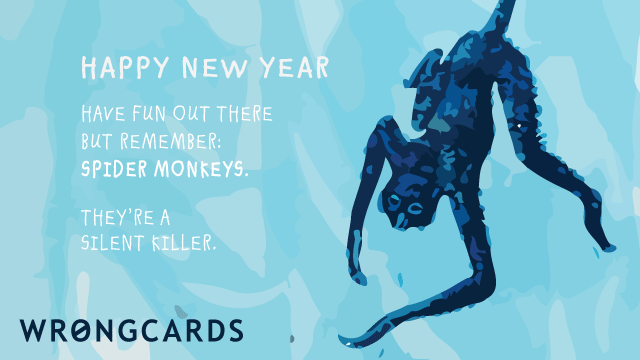 Remember a few years back when everyone thought the world would end because some Mayans had predicted it, even though the Mayans didn't predict the conquistadors? Well, I knew that was going to happen. I prophesied it. The only thing stopping me from closing down Wrongcards and becoming a professional prophet is the obligation to grow facial hair. I'm afraid of mustaches.
share this
send card
Christmas cards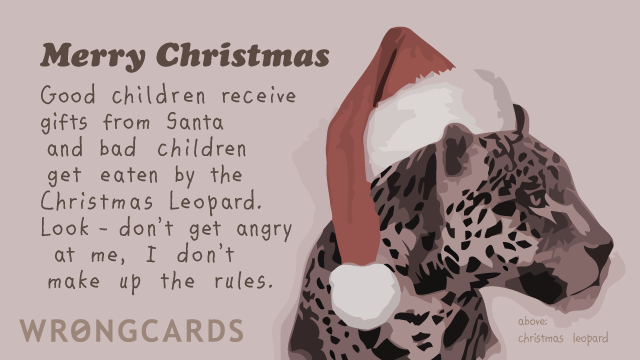 The problem with Christmas is that children are too confident about the whole thing. They're tottering around all cool and jaded, basically because you never taught them to fear Krampus the Christmas Demon. So thanks to your bad parenting kids don't believe in demons and now they're out of control! Well, don't worry - I can help you out. Sure, they don't believe in demons but you know something they do believe in? Leopards. You're welcome.
share this
send card
Mothers Day cards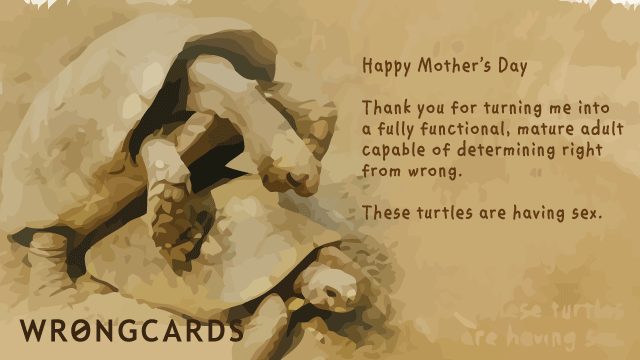 Anna Jarvis, the creator of Mothers Day, was so appalled by the commercialization of the holiday that she later protested it and organized boycotts. That's why our cards match the true, original spirit of Mother's Day - we never court mass appeal or pander to the market. Example: just look at the badly behaving turtles in this card. Wrongcards: principles before profit.
share this
send card