Page 2 of 6
Ecards to Send Around the Workplace
Workplace cards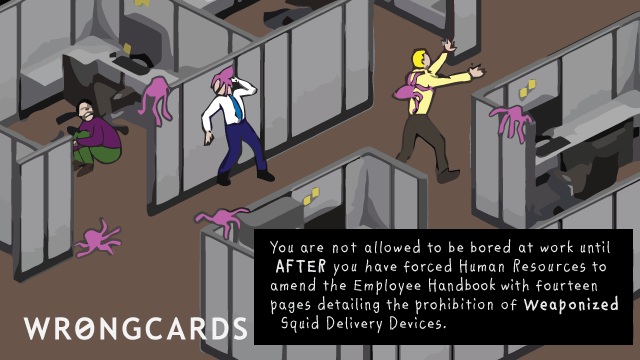 Sometimes when I need my subordinates to take my authority seriously I hire an elderly actor to talk to an empty chair. It reassures them. I have only drugged my employees' orange juice twice, and only as a joke, not to extend their productivity or anything because that would be unethical. I believe a workplace should be happy place filled with experimentation and fear.
share this
send card
Workplace cards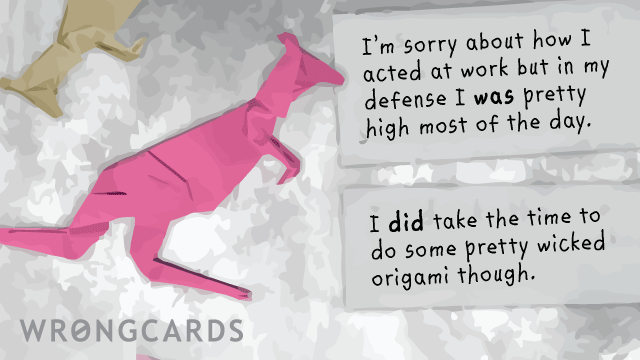 'On Wednesdays I like to post a slightly older card and then I invariably I do something practical, like my taxes. I always put a dead bird into the envelope I send to the IRS - when they call me up about it I say it was an accident. FYI: federal employees are not paid enough to audit people who accidentally mail dead animals to them. I'm here to help.'
share this
send card
Workplace cards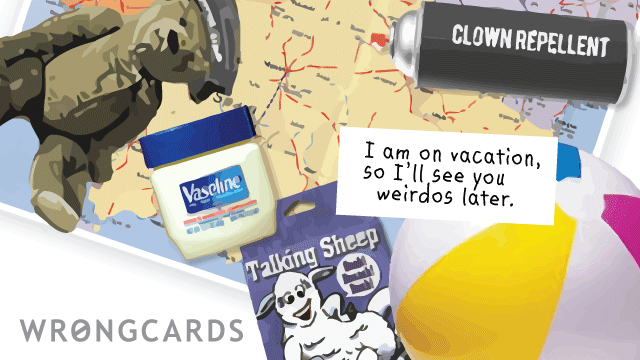 In the US everyone seems to go on vacation in August - my inbox is full of out-of-office emails. If they're not doing anything, I'm not either: and did I mention today is re-hash Wednesday? Screw work, I'm off to steal office supplies. And maybe I'll redirect all print queues to the Vatican. The day is pregnant with possibilities...
share this
send card
Workplace cards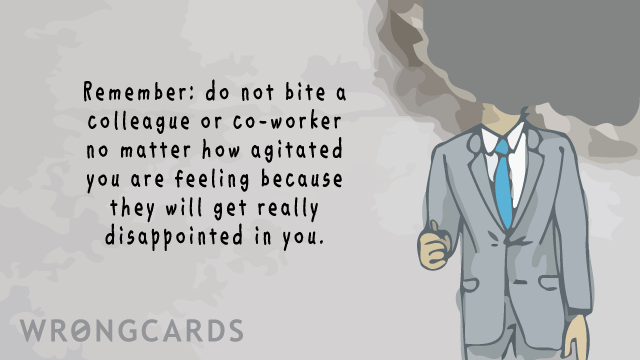 After I realized that I had mastered Workplace Behavior, Norms and Etiquette, I realized it would be selfish of me not to share my knowledge with others. So I started to encode subtle Workplace Survival Tips into certain cards - today's card, for example. There's no need to thank me ... I do it for the glory.
share this
send card
Workplace cards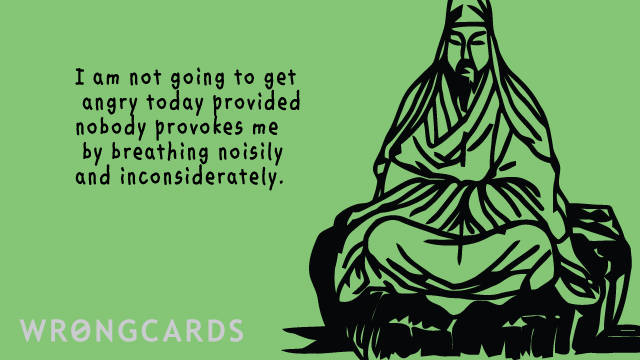 What people sometimes call 'anger management issues' I prefer to describe as 'an impaired ability to cope with fools and idiots'. Of course, I'm not one to promote bad-tempered irrationality (I'm no Bill O'Reilly) but we're all entitled to our moments, and a deficit of sleep might make this card seem useful.
share this
send card
Workplace cards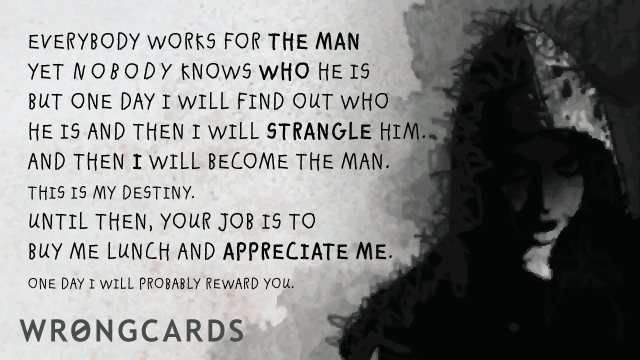 Everyone should have a mission statement. If you don't have one yet my advice is to write one that would make your Human Resources department panic. You should listen to me because the laws that govern probability suggest that I'll be right about everything at least part of the time. And today I'm feeling lucky.
share this
send card
Subscribe to our shenanigans
No spamming or soliciting from us. Seriously .