previous
next card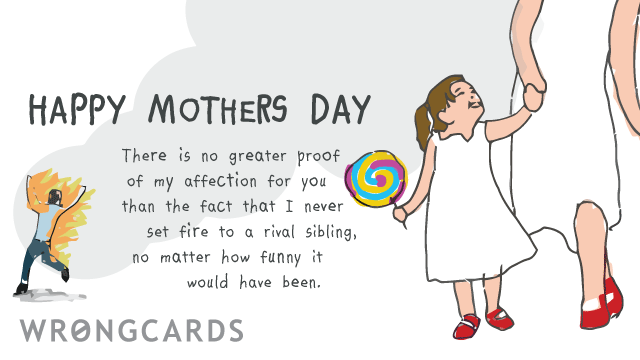 share this
send card
about this wrongcard
I'm ignoring our re-hash Wednesday tradition and posting a new card today because, well, I have the power to do so and because I am the boss. Being a boss is like being a king except instead of bringing you courtesans they bring you tea. Today's card is about Mother's Day. I'm sorry I mentioned courtesans before. Sometimes I say things that are a little bit inappropriate. It's a bit of a secret.
Read my latest book
"Shea is beginning to think that stealing the world's most famous skull wasn't the best way to launch his career in cat burglary..."
read more
I also considered throwing a chair through a window, but I didn't because it was my chair, and also my window. One should be particular when it comes to picking out targets for petty acts of vandalism.
read more
Subscribe to our shenanigans
No spamming or soliciting from us. Seriously .
Related Cards
Family cards
A Family Card today that touches on the subject of sibling rivalry, with apologies to the 'only child's among us. And apologies as well to orphans and people who burned their families' house down, because they probably find cards mentioning siblings somewhat tactless. You see how it's hard to please everybody.
share this
send card
Family cards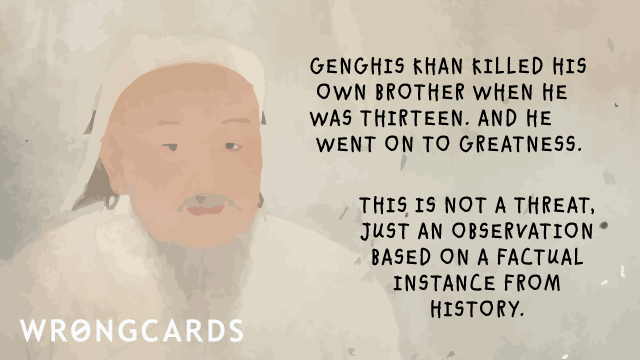 You all know me as a staunch defender of family values. Although Genghis Khan is not closely connected with Thanksgiving he DID father thousands of children and set them up with a dynastic empire. You don't get more family-oriented than that. Did your parents do as much for you? Doubt it. Ask them why not this holiday season.
share this
send card