Page 1 of 3
Mother's Day Ecards
These cards are perfect for sending on Mother's Day. If you don't have a Mother, perhaps through indifference on her part or negligence on yours, you can easily send a card to someone who merely looks like your Mother. To that end it's not a bad idea to have a few auxiliary Mothers on standby. Wrongcards does let you send ecards to multiple recipients. Alternatively you might consider allowing yourself to be legally adopted by a duck. But please don't send our Mothers Day cards to farm animals because that is absurd.
Mothers Day cards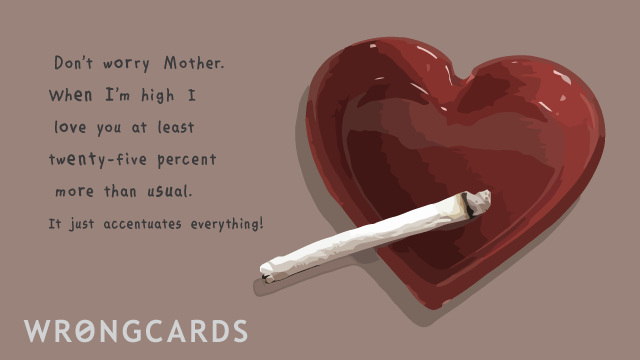 It's that time of year when we all remember our mothers. That's right. Mothers Day is nigh - at least, it is in North America. Different countries tend to celebrate Mothers Day at different times of year. I know, right? Why can't the world just agree on one thing? It's like we were all brought up badly or something. Anyway. This card has 25% more good taste than the others.
share this
send card
Mothers Day cards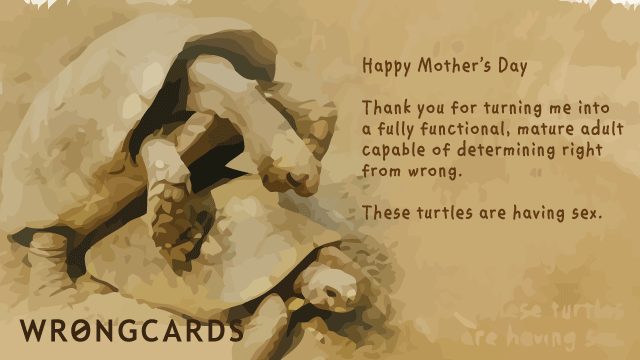 Anna Jarvis, the creator of Mothers Day, was so appalled by the commercialization of the holiday that she later protested it and organized boycotts. That's why our cards match the true, original spirit of Mother's Day - we never court mass appeal or pander to the market. Example: just look at the badly behaving turtles in this card. Wrongcards: principles before profit.
share this
send card
Mothers Day cards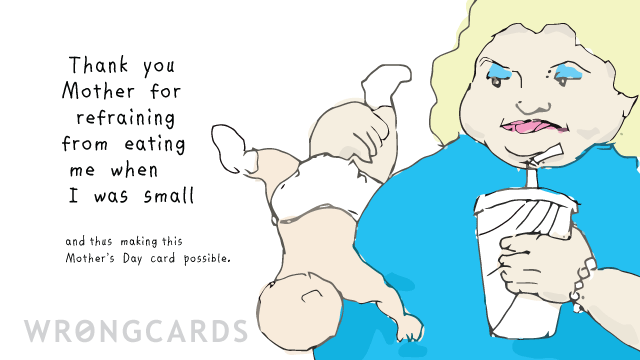 They say that my Mum had a very generous spirit. I have few memories of her, mostly they're of her leaving to go out on her rounds in her nurses uniform. It's a pity she wasn't a nurse. Mother's Day is an important holiday/scam run by the greeting card industry. I'll be honest about it at least until Wrongcards is profitable, after which I'm obligated to pretend it's not nonsense.
share this
send card
Mothers Day cards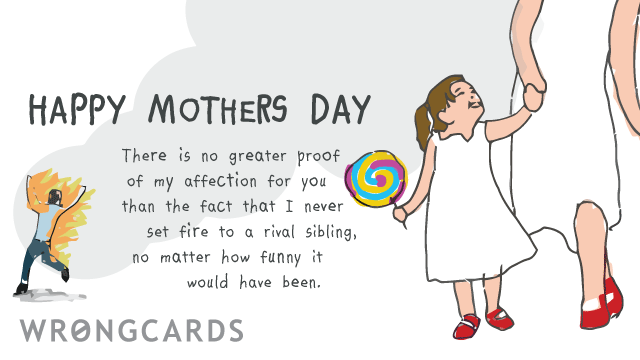 I'm ignoring our re-hash Wednesday tradition and posting a new card today because, well, I have the power to do so and because I am the boss. Being a boss is like being a king except instead of bringing you courtesans they bring you tea. Today's card is about Mother's Day. I'm sorry I mentioned courtesans before. Sometimes I say things that are a little bit inappropriate. It's a bit of a secret.
share this
send card
Mothers Day cards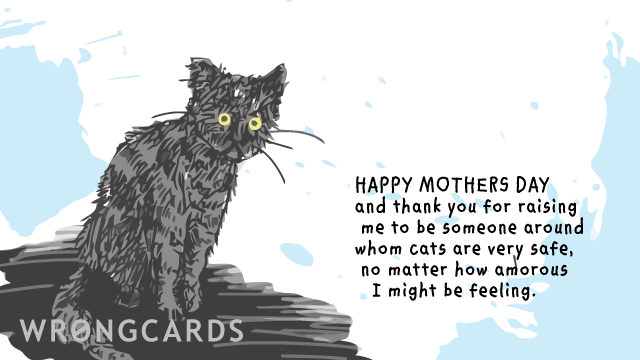 I had a pretty normal childhood even though I was raised by my Nanna after my parents were kidnapped by lizard people. Nanna was in the underground before our side surrendered, and she had to live in 'psychic hiding' (constant inebriation) to avoid detection by mind scanners. So coming up with Mothers Day cards is, of course, a bit tricky. But what I like about this card is that it is reassuring.
share this
send card
Mothers Day cards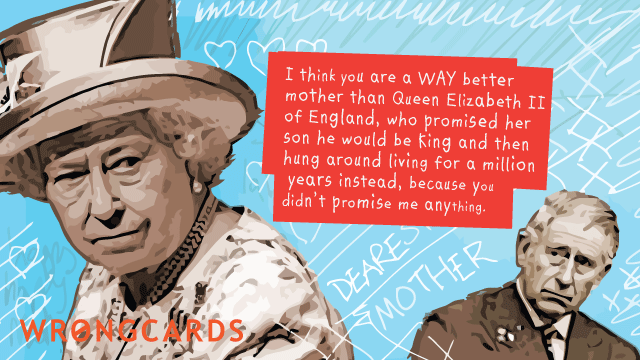 People often say to me: "Who are you?! And how did you get in here?" And I say: "Sorry, wrong house!" and apologize for eating their yogurt. People also say to me, "you're a good son, your Mother must be proud!" and then I have to explain that I was raised by my grandmother who fed me lizards. And people wonder why I like the taste of yogurt so much.
share this
send card
Subscribe to our shenanigans
No spamming or soliciting from us. Seriously .