Page 1 of 2
Ecards for Family Members
There are special people in our lives who are called family and they can do anything they please towards you because, ahem, you're related to them. You'll see a side to them that their friends never see. You'll have memories of them trying to kill or maim you. And what's more, you can't get rid of these people. You're doomed to always see them again and again and again and again because God hates you. Anyway to pay lip-service to these familial relationships there is nothing better than a wrongcard. Sending a family card from here is a nice way of reminding them that blood is more clotted than water.
Family cards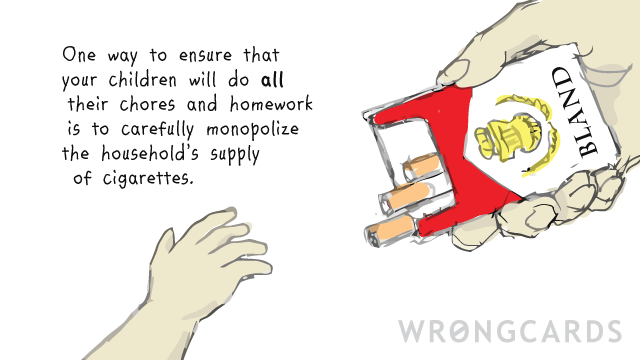 I was listening to some poor, hapless parent talking about how hard it was to get their kid to enter the civilized world and, before I knew it, the words of today's wrongcard fell off my tongue. If I ever become a parent I want to do it the old-fashioned way: accidentally. I look forward to it, I suppose; it just seems so romantic to flee a country and live under a false identity.
share this
send card
Family cards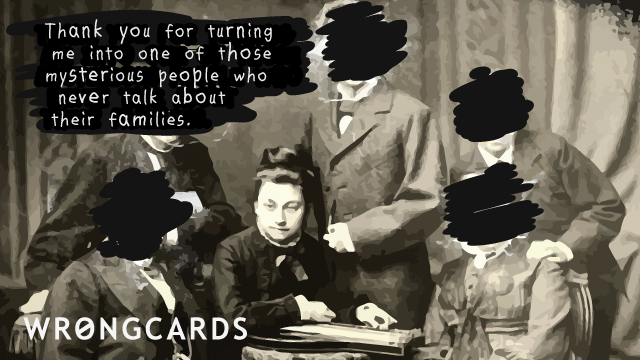 I believe that families should always communicate. This can, however, be a challenge when your only apparent relative is dead. Even though my Nanna isn't with us anymore, conversations with her can get a bit one-sided; it's hard to get a word in edgewise over her demented shrieking and wailing. My advice: when a loved-one dies, do not hire a witch doctor to be a funeral director.
share this
send card
Family cards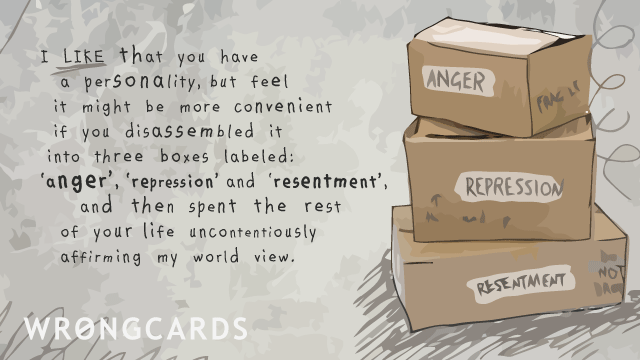 I was raised by my Nanna, a sort of road-side shaman who drank a lot alcohol-based solvents and read the entrails of demon clowns to divine the future. She believed strongly in the institution of family, which is why she kidnapped me as a baby in the first place. Otherwise I'd have been eaten by the alien lizards. Today's card is for those of you in less fortunate family situations.
share this
send card
Family cards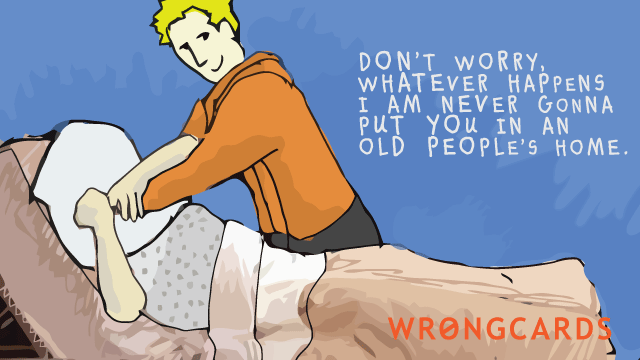 I'm going to go ahead and admit that there aren't many Family Wrongcards yet. Ever since my own family died in an unsuspicious fire that happened while I was on the other side of town making a speech in front of several eyewitnesses, I don't like to think about family. Still, you have to admit it's an institution. And it's incredibly beautiful, the way it dances. Sometimes I think fire is a god.
share this
send card
Family cards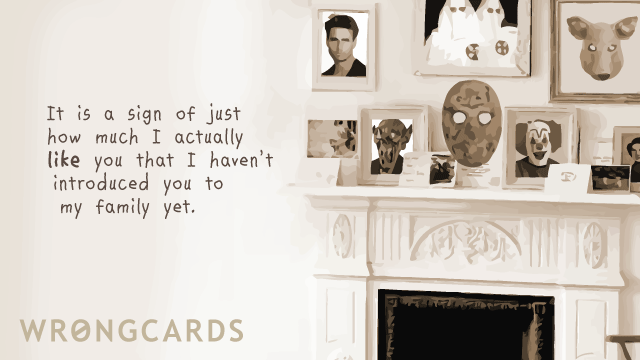 I was raised in a trailer by my grandma, a wonderful, wise old bird who sold cat pelts to tourists to fund her collection of human teeth. When she wasn't passed out drunk on kerosene, she was doing everything humanly possible to provide me with a normal childhood, including carefully negotiated contracts with witch doctors. This card is for those who weren't as lucky as me.
share this
send card
Family cards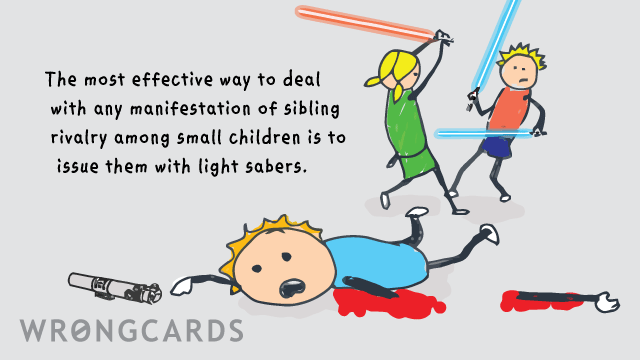 Like most people I had parents. They ran a complex experiment on me called 'raising a child without reading a book or consulting anybody who has done it before'. But they must have done something right because God says he prefers me to just about everybody else in the world. In fact I could become a prophet but I suffer from a phobia of beards. Today's card is about families.
share this
send card
Subcategories of 'Ecards for Family Members'
Sweetie, I LOVE your parents, you know I do… If you've heard these words then you're living with a god-damned liar. And that's fine. I believe that nobody should love their spouse's parents - it's creepy. Oh of course you meet these people who say they don't want to kill their in-laws and sometimes I even believe them, in which case I like to to refer them to a mental health specialist in Switzerland. Who was it that said that the only reason you should be nice to your in-laws is so that you can be above suspicion when you murder them? Oh that's right, it was me.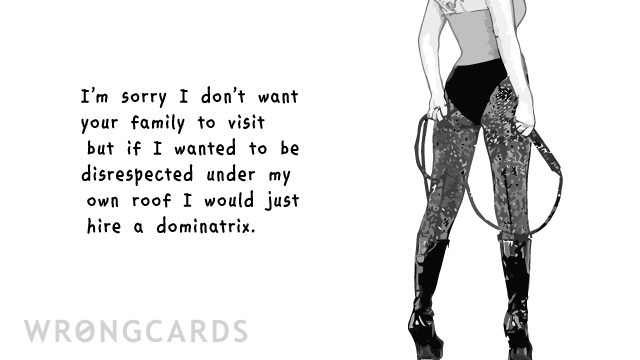 ---
Subscribe to our shenanigans
No spamming or soliciting from us. Seriously .