about this wrongcard
My father was Cary Grant. Or Neil Armstrong - my Nanna could get a bit inconsistent after her second bottle of turpentine. Dad being Cary Grant would make a lot of sense, of course, but if he was Neil Armstong then that would explain my tendency to always push everyone out of the way in trying to be the first through any door.
My quest to find a literary agent, its reasons, and some very excellent advice on how you too can query a literary agent.
read more
Related Cards
Apology cards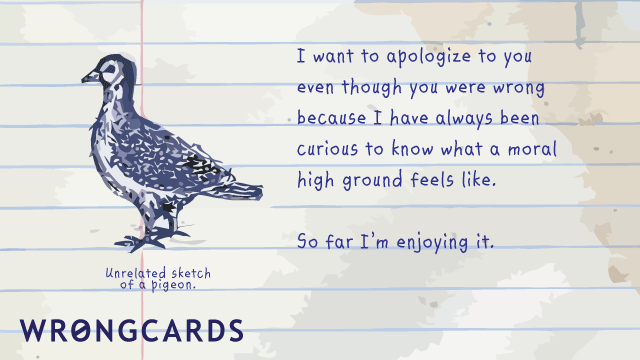 'If you have to apologize to anyone then there is no reason you can't enjoy yourself. Also: you're allowed to snicker. If anyone disagrees, say that a stranger on the internet said so. "It's not a proper argument until you've quoted someone on the internet." - Gandhi.'
share this
send card
Subscribe to our shenanigans
No spamming or soliciting from us. Seriously .