about this wrongcard
This week's Re-hash Wednesday card is, predictably, an Easter card. And for the record: You Probably Shouldn't Send It to Anyone. You see what I did there? I urged you to live responsibly. Good. My work here is done.
I just disappeared for four years. It's time to come out from the woodwork, but where do I start? How about I go back to the middle?
read more
Related Cards
Passover cards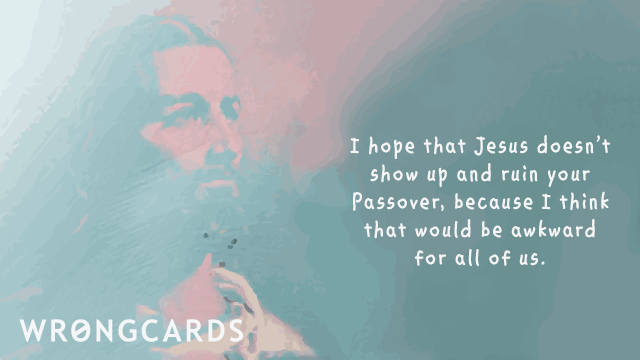 It's re-hash Wednesday and .. I'm not sure what the Passover is, except that it might be how my Jewish friends celebrate Easter. Moses probably played a part, though, or the Apostles (if Moses wasn't an Apostle). Never said I was good at religion but you can't expect a man to be good at everything.
share this
send card
Subscribe to our shenanigans
No spamming or soliciting from us. Seriously .